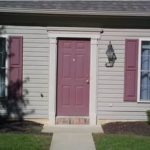 Let's go inside, I'll give you guys a tour. To you at Freedom Mentor, you guys had helped me get this place for no money down. I appreciate all your help. I highly recommend this color, by the way: Autumn Air. Still got a little work to do but I was getting a lack of interest for a down payment so I said, "Why not make it my first home and check off one of my goals for the year?"
I'll take you guys to the kitchen. Oh, I got this for a buck on Craigslist here, this nice table, which is also my office. Decent size kitchen. Decent size bathroom here, came with a washer and drier. It's amazing what people get rid of.
I'll take you guys upstairs, finish the tour up there. Just outlets and outlet covers and a little bit of cleaning and we should be done here shortly. Here's my room, a nice little blue here. My first time filming, can you tell? Nice little walk-in closet, and I got myself a nice bathroom here. Not bad for a kid with no money. Thanks, Freedom Mentor.