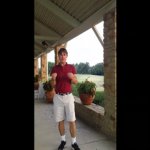 Hey, guys, this is Steve. I'm here from the Dallas Fort Worth area. I just became a member of Freedom Mentor several months ago. I just completed my third deal here, a few weeks ago. It was really quite incredible. On the first two deals, I was actually able to take in both properties with no money down. On the first deal, I went over to check out the property, and a neighbor from across the street came over and wanted to purchase the property. We ended up closing on that in just a few weeks. During that same time, I was actually working on my second deal, and the exact same thing happened. A family from across the street came over, wanted to purchase the property, and ended up closing with them in just a few weeks. Didn't have any commission cost. Didn't have to risk either property.
From that, I took some of those funds and invested in my third deal. Using some of the creative investing techniques at Freedom Mentor, all I had to do was put down a few thousand dollars. In fact, we just closed on that deal a few weeks ago, and we cleared over around 40,000 dollars. It was amazing. A great start, and I can't thank Phil and his team of coaches enough. A lot of times in life, you'll meet someone or a group of people, and you might even have a good first impression, but then that gradually goes down through time. Just the opposite here. This is one of the few times in my life where my expectations have been exceeded. One of the reasons that Phil has been so successful is, he has what I would call a continuing intellectual curiosity. He doesn't just rest on his laurels and what he knows ten years ago or six years ago, or even six months ago. He's always striving to get better, and always striving to see what works in the real estate market right here and now, in order to help his students.
A lot of times when you start an endeavor in the real estate market, you can feel lost. You quickly find out that even if you don't have the answer to some of your questions, Phil and his team of coaches absolutely do. I also want to thank my local coach here, Brian. It's just been incredible, and helped me out through every step and every detail along the way. I'm always amazed just how busy Phil and Brian and the rest of the coaches are, yet at the same time, always find time to answer all my questions throughout this whole process. I just want to thank you guys. I feel like I'm just getting started, and I feel like I'm about to rock and roll. I couldn't have done it without you guys. I've been very fortunate to find the right group and the right people, and just good quality people to be around. Thank you very much.