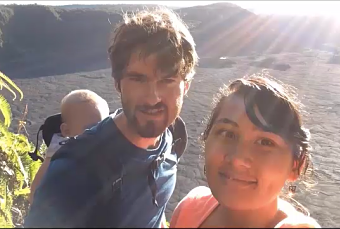 Julliane: Aloha from Hawaii Volcanoes National park.
Bryce: Hi I am Bryce.
Julliane: I am Julliane and this is our little baby Kian. We joined the program in winter of 2013, just a couple of years after getting married. We've been doing it ever since.
Bryce: Yeah and we had been looking at quite a few different programs and really wanting to join something that would give us a really big leg up on the competition and also short cut a lot of the school of hard knocks stuff. I think we came across Phil's YouTube videos and podcasts and his book, and he just really set out to us and really genuine. Thought really clearly and just seemed like the right fit and so seemed like the real deal. We jumped right in and haven't looked back ever since.
Julliane: The first year or so, we struggled a little bit learning the ropes. We had day time jobs, we were full-time graduate students and we were doing this, nights and weekends. The coaches really kept us going, encouraged us a lot and helped us not just quit.
Bryce: Yeah and then their support was I think instrumental to keep us going, get that wheel turning. I guess fast-forward to now, to the end of I guess 2015, we had closed around 10 deals and that allowed us to finish up our graduate school and basically be doing this full-time. We get to work from home, we get to spend more time with our family, friends, come out to beautiful places like this in Hawaii. Just enjoy time together.
Julliane: Yeah and it was really nice that both of us could be home when Kian was born. I didn't have to have him go back to work and be alone all the time with just Kian by myself. That really was a big deal for us and our family.
Bryce: Yeah, so this business had afforded us quite of a different lifestyle than we had envisioned even when we first got married. It's been great. Yeah, it can be difficult at the beginning but you just got to keep pushing along, keep plugging along, keep in touch with the coaches. Eventually the big ones do come through, that will really open up your eyes to what this business can really offer. That's our story.
Julliane: Mahalo Phil and all the coaches from Freedom Mentor. We really, really appreciate you guys.
Bryce: Thanks so much.