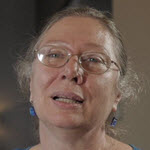 My name is Julie Casil. I'm from the Atlanta area, currently. I started doing things with Freedom Mentor in about June, but I actually moved from South Carolina to really help out with it in November. I think Freedom Mentor is incredible. I have been helping my daughter and my son-in-law and I have gotten to really dive in and do quite a bit of work and just like the coaching staff and how they don't just answer your questions, they feel them. They know how to really relate to what's going on for you. They know how to just touch you in that part of you that you really need the encouragement.
Stephanie has been helping us a lot, incredible, incredible, incredible. She's not the only one that's incredible, but she is the one that I've gotten to experience the most.
This seminar, we ran into so many things, like the Craigslist automator and For Sale by Owners. I made so many phone calls, but all of the things that I was seeing that needed to be addressed, they were addressed in this conference and the incredible detail that Phil went into to address them, and not just address the details, but address them in the situations that, as mentors, each person is going to run into them, I mean mentees. Just clarifying all of the little pieces, and I get, "Oh, yeah, I can relate to that, oh, yeah, I can relate to that, oh, yeah, I can relate to that."
This is the first I have ever met Phil, but he is very real, has such an amazing amount of knowledge, and while he is very careful how he uses it, he really just pours it all out to the people he's mentoring, just incredibly gives all of it out, just freely touching all the little details, helping in all situations, and, hey, he's really great with timing. Even the seminar and the timing for each piece, he would give us a break before we knew we needed it, but it was at the perfect time, to where your brain could just refresh and then go on to the next piece and then your next break and it's like, "Oh, I guess I am ready for a break, but I don't feel like it, but you don't want to have to feel like it, you know.