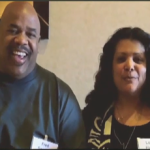 Lorene: Hello. We're Fred and Lorene from Covina, California. We're here at the real estate seminar here in Las Vegas. Beautiful weather. We're learning so much, a lot of different creative financing techniques that we've not heard of, or maybe heard a little of. We're getting so much information, so much content. It's been a really, really great day to have so far. We're excited.
Fred: I'm very impressed with the instructors and in this line of knowledge. A lot of background and things that will be helpful, very helpful to us as far as what we're trying to build here as far as our real estate lives, I should say.
Lorene: We're newbies, so this is a lot of great information.