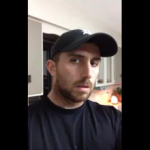 Hey, my name's Travess. I live in Michigan and I just finished my first deal with Phil and the Freedom Mentor Team. Made $4,500 net profit. They're teaching me new skills. I'm learning a lot and starting my own business and learning while I'm implementing the skills at the same time, so it's pretty neat. It's a lot different from what I'm getting with the whole online college experience, kind of disappointed with that and the whole job searching process with cover letters and resumes and all that and filling out online applications.
It's just not really for me. Really wanted to get into being my own boss and I think I reached a point where I had just kind of started to notice more and more people around me. Not just to do with necessarily just real estate, but just people owning their own businesses and being independent. It always seemed like they were so much happier than those people that are employees working for someone else. That's what I want to do and it's happening quicker than I would have ever imagined.
I can't believe it, I'm absolutely astounded and more power to anyone who's currently an Apprentice under Phil and the Freedom Mentors. They really have a lot to teach you and they're right by your side until the deal closes. They really empower you with learning a lot. Just being a better person overall. I felt like from the very first person I talked to when enrolling with Phil's Apprentice Program that I was part of a family.
If you've come across Phil's YouTube channel and you feel like he is talking directly to you, then he actually is. You should probably check further into that. Right now, I'm actually standing in and working on my second deal. Signed up for $119,000. You're going to see in the background here, I did some minor do-it-yourself improvements and I'm just going to give you a walk through here. I shot a previous video at this house and I think people may have gotten kind of a wrong impression.
I'm not renovating this house, I'm just doing some minor things just to improve the appearance. I actually have a buyer coming through tomorrow with their agent, that just confirmed today. I just did these little sort of things just to kind of lighten up the perception and everything. This house is actually on a golf course. Here's the living room here. It's nighttime here, I'm locking up. I've been working here the past week so we can't really see into the back yard there, but that's a golf course.
Just want to show you down here. I thought this was wood, but I'm kind of disappointed. It's just laminate or whatever, but you can see these lights and everything. I'm going to try to get some text at the bottom of the screen that shows what these little things are that we did around here while I'm renovating this. Then you'll be able to read along and see that this stuff really didn't cost that much. This lady is pretty burdened by this house.
Like I say, it's signed up for $119,000 and we have it on the market for $134,500. It's been on there little less than a week and the first buyer come through tomorrow. There's actually been a few people just driving the neighborhood that have stopped and talked to me. There's one guy, I guess, that was talking to her a while back about probably buying it or something like that. I'm not going to go upstairs, just did some … it's just three basic rooms with carpet in them and everything.