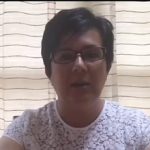 Hello. My name is Ofelya and I'm from Maryland. I worked in the food industry for over 10 years, and after working 6, 7 days a week, the job took a toll on me and I decided it was time to move on and start my own business so I could have the flexibility to manage my own time. I'm a mother of 3 kid, right now working part-time.
I joined Freedom Mentor about a year ago and I'm very happy with the program. The way it's set up, especially having no real estate background, it's very easy to follow the blueprints step-by-step.
The coaches on the program are great. Every time I get stuck on something or have a question about anything, I just jump on a coaching calls and ask my question and move on. The coaches are very knowledgeable and they have a lot of patience and are very friendly. At first I was disappointed with myself because I don't have a real estate background and I wasn't familiar with the real estate terminology, but after I got hang of it, I started closing deals.
I remember my first deal I made about 30,000 dollars and the second one made about over 50,000 dollars, which puts a smile on my face every time I think of it. My coach, Brian, was right behind me through every step of the way, and same with Phil. If it wasn't for them, I would have been never able to make this kind of money. The way they teach all the techniques, how to learn and what to follow, makes it very easy. They teach this to their students every single day.
For anyone who's starting this program, I just want to let you know that you just have to be patient and never give up. If you don't give up, you will get where I am right now.