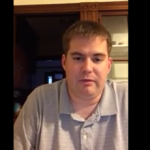 Hi everyone. My name's David O'Hare. Stephanie, my coach, asked me to make this video because I just did my first deal. First she wanted me to give my background. I work in IT. I have been working in IT for many years now, I can't even remember when I started. I've been trying other fields after being laid off when I was living in California. I'm now living in New Hampshire. I just moved out here. I tried insurance, that didn't really go too well. I actually started trying to get into real estate.
First I read "Rich Dad, Poor Dad" with Robert Kiyosaki and liked the idea of doing real estate. I went to a couple of his seminars and what he wanted, or what the company wanted, to get started was outrageous. They wanted at least 10,000. After looking around, came across Freedom Mentor and Phil Pustejovsky. I was able to come in with just 1,000 first; then, once I was able to afford it, 3,000. Anyway, that's my background.
What else did she want? Anyway, this deal … Took me a few months to close it, but it was a condo. I did a … It was going to be a double close, ended up being a assignment to the new buyer. I'm going to be making around, after my split, a little over $3,000, which is pretty cool for my first deal. Anyway, I guess that's about it. Good luck to you all, thanks.