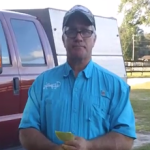 Hi. I'm Les Boileau.I live here in North Central Florida, got into real estate, always had an interest in it. I do work a full-time job, been a business owner for over 30 years shoeing horses. That's here in North Central Florida, lived here all my life.
I had my license, a real estate license back in 2001, kept it for about 7, 8 years, and then didn't do anything with it, so I let it drop. Then, about a year, a year and a half ago I started looking into real estate investing, and that's when I found Freedom Mentor and Phil. I just always had this idea that you got to put smarter people around that can help take you to where you want to go in life, and that's the reason I sought out a mentorship program like Phil and Freedom Mentor. I just think that's the best way to go. Even with my career in my trade, I've done the same thing there, so it takes you to where you want to go.
The deal that I just closed on I signed it up at the end of September for 130. I thought I would do assignment and make a quick 15,000 on it. The sellers wanted to close real quick, and they was after me to make it happen faster than I could make it done, so they got the price dropped from 130,000 down to 80,000, and Phil come through with the funding for it in a day. We got it closed, and then I got it back under contract within about a week later and closed about 30 days after that for quick profits of about 50,000. That's an awesome thing … and that's it. That's a wrap.