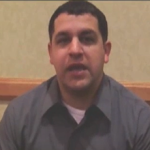 Hello, folks. My name is Tom Peña. I just want to talk to you today about the program. I'm an active duty military guy, so I'm very busy with work. I'm also a family guy. I've got a big family. That keeps me very busy.
The program is really, in my opinion, the best program for real estate on the planet. I've been a part of some of the other big names, like Trump University, National Real Estate Investors, and things like that. After five years of being a part of groups like that, I had zero deals completed. In the last year, I've been able to close two deals where I had a coaching staff behind me, I had mentors where I could go in there, and I was learning by doing. I was doing the deals. I was talking to motivated sellers.
The coaching staff are just invaluable. It's nice to have somebody to go to and say, "Here's what's happening. I'm hyperventilating. Help me get through it." Every time, those coaches have said, "Oh, I've seen this before," or, "Oh, yeah, we've seen this several times. Here, this is what you do. It's no big deal." Oh, you know, you can take a breath of fresh air. The coaching staff will help you through thick and thin. That's great. I wish you the best of luck. Bye.