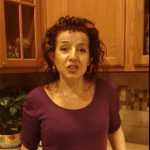 Hey, my name is Karin I'm from Germany. I moved to California 13 years ago with my husband who was stationed overseas. We have five children, and I have been a stay-at-home mum for many, many years. Starting a new life in a new country is not easy and it brings many challenges along the way, more so if you're tight on money. It was clear in order to change our financial situation and to do some of the things we always wanted to do, for example be able to go back to Germany and visit, I needed a job. I needed a job that was flexible enough so I could still be here for my family. I did a lot of online searching and that's when I found Phil and Freedom Mentor. I joined the program in March and yes I was very scared and I thought to myself, what did I get myself into, and just really doubtful, could this program really work for me. Before long, I gained a lot of knowledge in real estate and did some really amazing things.
I sold our rental property that we bought a couple of years ago, I sold it in just three weeks without a realtor and that saved us thousands of dollars in commission. Then I took over a duplex and have now a cash flow monthly income of $700, but the best one yet, I'm getting ready to close my very first cash deal and that will make me $30,000. Yes, you heard right $30,000 in just one deal. The truth is, I could have never done this without Phil and Freedom Mentor. All the coaches are great, they're there for you every step of the way and it just truly feels like family. Why do I think this program works so well and is so successful? Because Phil knows everything about real estate and he has the gift to being an incredible mentor, and he shares that with thousands and thousands of people.
I can't thank Phil and Freedom Mentor enough for giving me the opportunity to change my life and my family's lives forever. This is my success story, when will you be telling yours?